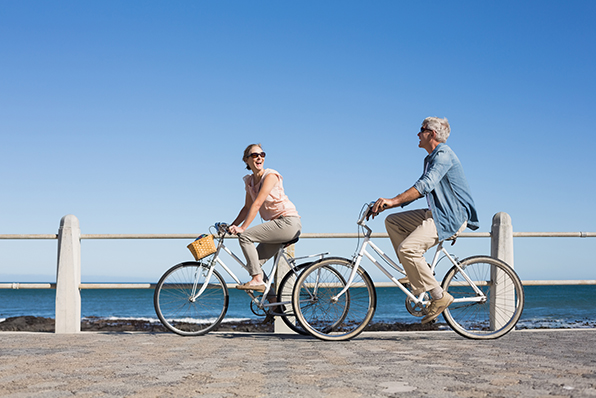 Living with arthritis can be complicated and painful. More than 58 million people in the United States are affected by this invisible disease.1 Arthritis is a progressive disorder that usually starts slowly and worsens over time.
The knees and hips are most often affected by osteoarthritis (OA), the most common form of arthritis.2 Pain from arthritis can keep you from living your desired active lifestyle. The good news is that the best way to beat arthritis pain is to keep moving!
How does exercise relieve arthritis pain?
During movement, your joints compress and release, allowing blood to flow into the cartilage and nutrients delivered. Simply moving prolongs the longevity and function of your joints.
Exercising also improves energy levels. Pain is draining, and by reducing your pain through movement and increasing your endorphins, you will have more energy throughout the day and less pain.
Our bodies need to move. Inactivity can damage our joints and tissues. Once people start moving again, they feel more energetic and confident, increasing their energy levels.
Tips for exercising with arthritis:
Choose low-impact exercises. Gentle exercise strengthens your muscles, which maintains the stability and balance of your joints. Swimming, biking, yoga, pilates, and walking are all great exercises for people, specifically with knee and hip arthritis.
Create a daily movement plan. Develop a workout routine to keep yourself motivated. Make sure to incorporate daily movement. Take a walk on your lunch break. Ride your bike in the evening. Knowing your limits is equally important when exercising with arthritis. Please do not overdo it!
Stay hydrated. When you have arthritis, staying hydrated is essential. You can reduce the rate of friction between bones by maintaining well-hydrated cartilage. Proper hydration helps the body eliminate toxins and fights inflammation.
Consult a physical therapist. If you are new to exercising and unsure where to begin, seek out a physical therapist who can help get you started safely. A PT can design a unique exercise program and accommodate other issues you may be experiencing, such as pain.
There is hope for those suffering from chronic joint pain. Dr. David Buchalter provides nonsurgical and surgical treatment options depending on the severity of your arthritis pain. Regaining your active lifestyle is always the goal. Let us help you get moving!
David N. Buchalter, MD is a board-certified, fellowship-trained orthopedic surgeon specializing in minimally invasive hip and knee replacement surgery at South Palm Orthopedics. Dr. Buchalter uses the latest cutting-edge surgical and nonsurgical techniques for orthopedic patients across South Florida.
1. https://www.cdc.gov/ncbddd/disabilityandhealth/infographic-disability-impacts-all.html
2. https://www.cdc.gov/arthritis/basics/osteoarthritis.htm#:~:text=Osteoarthritis%20(OA)%20is%20the%20most,underlying%20bone%20begins%20to%20change