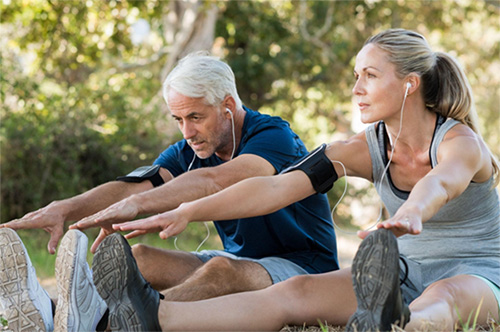 Electing to have hip replacement surgery is a big decision and one you should consider thoroughly. Each person and their circumstances are unique. Asking lots of questions can help you determine if and when you are ready to proceed with a hip replacement.
These frequently asked questions can be a starting point for you and your family as you begin to consider hip replacement.
The goal in orthopedic care is to relieve pain and restore function. Conservative, non-surgical treatment options may be able to accomplish these goals. Talk with your doctor about all the options available to you for treatment. If conservative treatments have failed to relieve pain or restore hip function, then hip replacement may be your best course of treatment.
The hips are just one part of the body, but the health of each joint affects the overall body. Weight-bearing joints that are damaged and causing pain or limiting mobility can quickly affect everyday activities and overall health. These consequences should be considered in the decision making process.
Preparing for surgery is an important component that is often overlooked. Physical therapy prior to surgery can help strengthen the hips so they provide adequate support to the implant. Losing excess weight and avoiding smoking prior to surgery will also contribute to a successful outcome.
There are several different types of hip replacement surgeries – posterior hip replacement, anterior hip replacement, minimally invasive hip replacement, and revision hip replacement. The type of procedure recommended will be based on your unique circumstances and will help determine what you can expect from surgery.
Depending on your procedure, you will want to prepare your home before surgery and have a caregiver with you after surgery. Physical therapy may be recommended to help you regain your strength and mobility. Talk with your surgeon more about recovery expectations depending on your procedure.
Typically, hip replacements can last 15-20 years or longer. Following post-surgical instructions and recommendations, your type of surgery and implant, and your activity level will all influence the longevity of your new hip. Ask about ways you can extend the life of your new joint.
Patients should ask lots of questions to determine if and when they should have surgery. As you consider hip replacement, there will be other questions that come to your mind depending on your circumstances, so talk openly with your doctor.
Hip replacement is a life-changing procedure. It can significantly improve a patient's quality of life and allow them to return to everyday activities that may have been lost. Make an appointment today if you are considering surgery and ask your questions about hip replacement.
Is hip replacement the best treatment option at this time?
What are the consequences of not having surgery?
How can I prepare for surgery?
What can I expect from surgery?
What do I need to know about recovery?
How long will my new hip last?
David N. Buchalter, MD specializes in hip replacement surgery at an advanced level of care, integrating the newest cutting-edge surgical and nonsurgical techniques, with proven traditional methods of treatments. The physicians at South Palm Orthopedics are committed to providing the highest level of orthopedic care to each and every patient each and every time.